Article
Royal Life Saving Society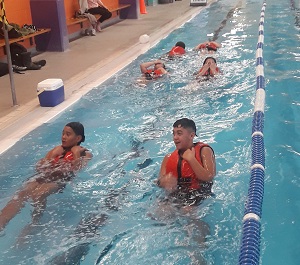 In the April school holidays, Marie conducted a water discovery programme with young people from the Tamaūpoko Community Trust (Whanganui River area). Conducted at the Splash Centre, Whanganui and funded by Tū Manawa, the session was a lot of laughs and learnings.
Marie put the young people through their paces with rope throw rescues, life jacket use, sculling, huddles and learning the HELP position.
Designed to familarise people to water confidence, safety and survivial activities, the young people learnt lots including forming themselves into a connected line and sculling to the end of the pool.
The AquaSafe programme, made up of Water Discovery, Water Smart and Rescue modules, builds water confidence in people's aquatic survival skills equipping them with the ability to assist others, should they get into difficulty in the water. Read more about the AquaSafe programme here.